VolunteerTracker is only available to existing customers.
If you would like to contact customer support, please click the button below.
Contact Customer Support
HOW IT WORKS

Coordinators create volunteer opportunities
With our user-friendly, web-based portal, school employees can quickly and easily create and distribute information on volunteer opportunities.

VolunteerTracker matches volunteers to opportunities
Our system automatically identifies volunteers who are likely to be a good fit for the posting and emails them the details.

Volunteers review postings and sign up to help
Opportunities are distributed to volunteers who can review the posting and sign up to offer their services.
Safety Review feature added to the VolunteerTracker to automate safety training and liability waivers for volunteers.
Learn More
Features focused on safety in a new school environment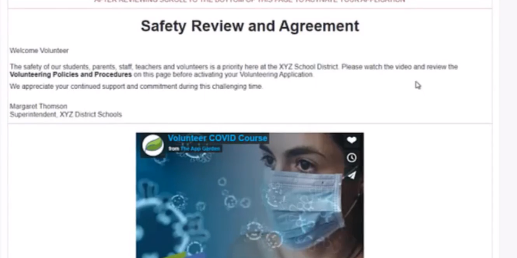 Safety Review Agreement
VolunteerTracker now includes a customizable safety review agreement. Once a volunteer has completed an online application and has been approved by the district, the volunteer will be prompted to complete the safety review agreement prior to being able to sign up for opportunities.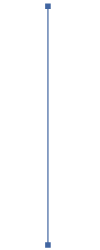 Video Training Covering Safety Policies and Procedures
Volunteers will be promted to view a training video covering safety policies and procedures. Districts will have the option to use the provided video or provide a video of their own.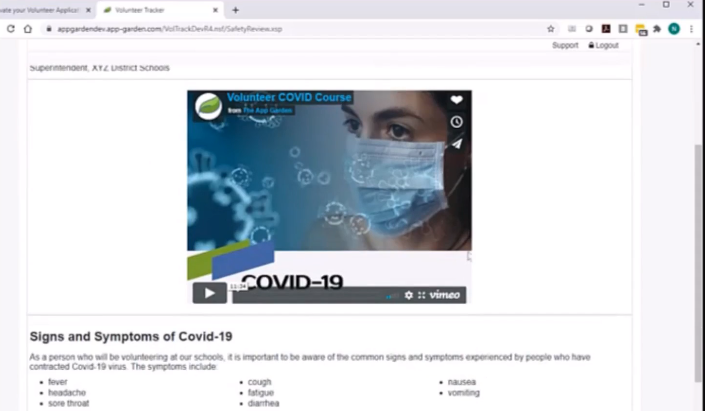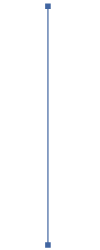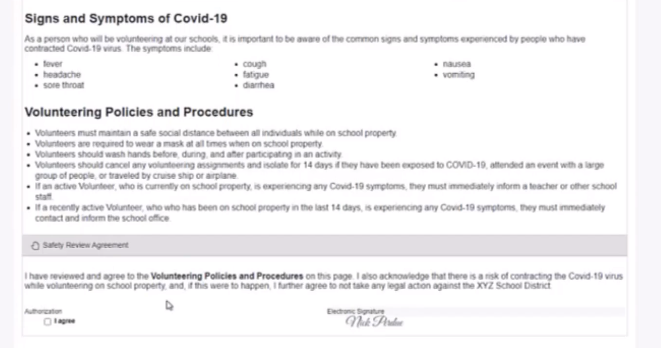 Electronically Sign and Agree
Once the volunteer has reviewed all provided material the volunteer must electronically sign and agree that they have reviewed all information and understand the safety policies and procedures. Volunteers will not be able to proceed beyond this step without an electronic signature. This agreement is saved in the system for easy access and reference.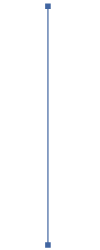 Create Both Virtual and In-Person Volunteer Opportunties
While many districts are restricting visitors inside the building, there are still many opportunities that volunteers will be a valuable resource for such as remote reading buddies or virtual tutoring. Through VolunteerTracker, volunteers can sign up for opportunities at their children's school.