New Safety Review feature added to the Volunteer Tracker to automate safety training and liability waivers for volunteers.
Learn More
HOW IT WORKS

Coordinators create volunteer opportunities
With our user-friendly, web-based portal, school employees can quickly and easily create and distribute information on volunteer opportunities.

Volunteer Tracker matches volunteers to opportunities
Our system automatically identifies volunteers who are likely to be a good fit for the posting and emails them the details.

Volunteers review postings and sign up to help
Opportunities are distributed to volunteers who can review the posting and sign up to offer their services.
VALUE PROPOSITION
Why use Volunteer Tracker to manage your volunteer program?
Save Time and Money
Reduce the number of phone calls between teachers and administrators by providing instant visibility throughout the process. Drastically reduce the amount of time to manage volunteer opportunities.
Improve Communication
Generate targeted emails to volunteers based on their interest areas and skills. Match volunteers to opportunities available in your district.
Increase Volunteer Participation
Volunteers are much more apt to volunteer when they are presented opportunities that match their interests and skills. Publish opportunities and send emails to volunteers that match what they are interested in!
Instant Availability
Volunteers can immediately sign up to volunteer online, allowing you to engage volunteers quickly.
Increase Compliance
Ensure that volunteer coordinators have complete and accurate information on their volunteer pool – always up to date!
Access Better Information
Capture volunteer time and have instant access to reports on where your volunteers are spending their time, both by activity and by location.
New features focused on safety in a new school enviroment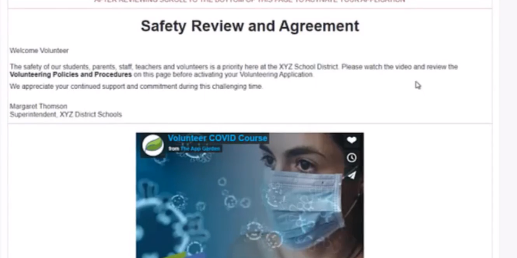 Safety Review Agreement
The Volunteer Tracker now includes a customizable safety review agreement. Once a volunteer has completed an online application and has been approved by the district, the volunteer will be prompted to complete the safety review agreement prior to being able to sign up for opportunities.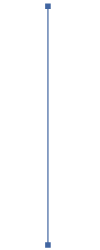 Video Training Covering Safety Policies and Procedures
Volunteers will be promted to view a training video covering safety policies and procedures. Districts will have the option to use the provided video or provide a video of their own.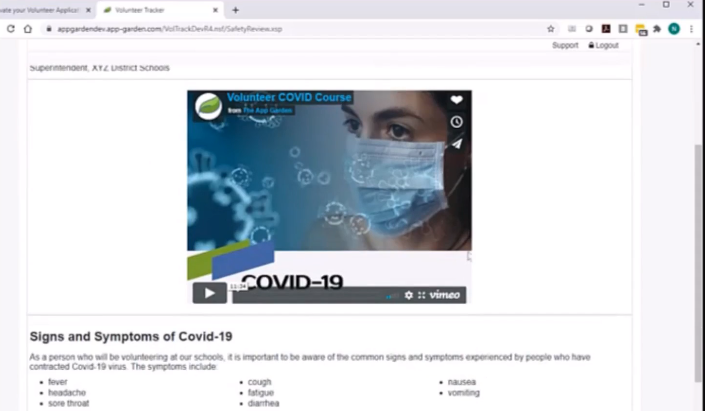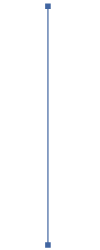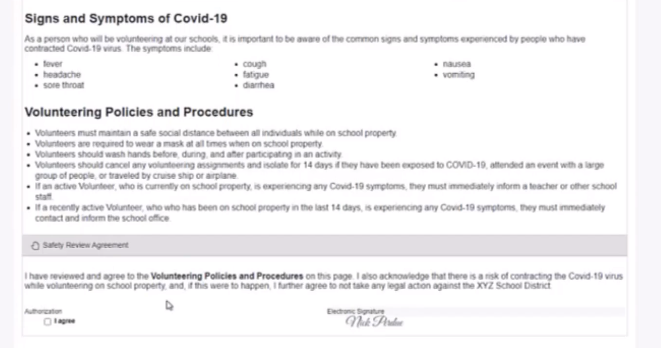 Electronically Sign and Agree
Once the volunteer has reviewed all provided material the volunteer must electronically sign and agree that they have reviewed all information and understand the safety policies and procedures. Volunteers will not be able to proceed beyond this step without an electronic signature. This agreement is saved in the system for easy access and reference.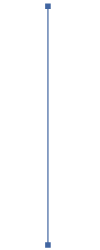 Create Both Virtual and In-Person Volunteer Opportunties
While many districts are restricting visitors inside the building, there are still many opportunities that volunteers will be a valuable resource for such as remote reading buddies or virtual tutoring. Through the Volunteer Tracker, volunteers can sign up for opportunities at their children's school.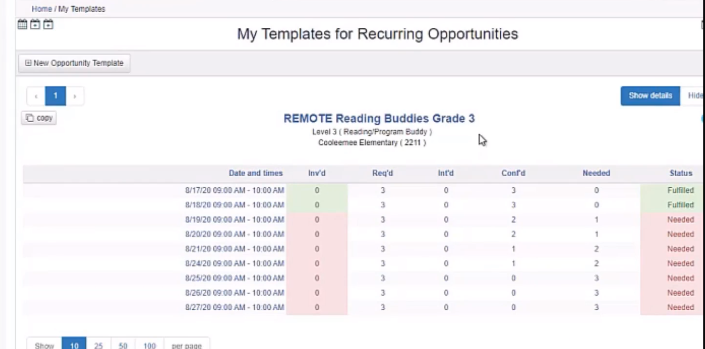 MAKE THE MOST OF YOUR VOLUNTEERS
The estimated value of volunteer time is somewhere between $19 per hour and $34 per hour. Don't you want your school district to be able to take advantage of this abundant resource?
Far more reliable than paper-based systems, Volunteer Tracker volunteer software makes it easy to approve and manage volunteers. You will save time and money with our automated solution. Volunteer Tracker's web-based portal offers easy access – anytime, anywhere for volunteers, teachers or school administrators. With no software to load, files to save or costly multi-user licenses, users can sign-on from any computer to apply, update information, or manage volunteers. The Volunteer Tracker provides easy online access and a single application that captures all information needed for background checks and for matching volunteers to opportunities.
Though they bring many benefits, volunteer programs can also create challenges. Namely, all these volunteers need to be managed and coordinated. This creates a long list of tasks for school administrators. The Volunteer Tracker will help you automate this process and greatly reduce the amount of time to process background checks, notify volunteers and ensure that school volunteer administrators have access to up to date information any time!
TESTIMONIALS
Read what our customers have to say about how
Volunteer Tracker has turbo-charged their volunteer program
"The majority of our county's volunteer applications are submitted from September to mid-November. The year prior to implementing the Volunteer Tracker, it took me up to 6 hours a day to process the applications and update the excel file to keep the schools' data current. This had a huge impact on normal HR duties at the beginning of the school year. There is really no comparison to how much more efficient the Volunteer Tracker is because the time aI have to dedicate to processing volunteers is approximately 1/10th of last year's. Volunteer Tracker has also put the power back into the hands of the various schools as to how they can best utilize volunteers because of their ability to post opportunities and contact volunteers via email."
Kathy Bradley, Granville County Schools NC
"The Volunteer Tracker has benefited our district by providing a safer environment for everyone. It allows us to avoid potential problems by alerting our school district and volunteer coordinator to individuals who have a background that is not in the best interest of our students. The Volunteer Tracker has helped us to get better acquainted with our volunteers. We certainly appreciate it and so do our volunteers. They know that we care not only about our students and employees, but also about them. It has improved the relationship between volunteers and the schools. Parents are happy knowing that their children are around volunteers who have been cleared by Human Resources."
Soraya Wright, Wilson County Schools NC
What features does the software include?
Online volunteer application / profile that the volunteer can enter and update
Set background expiration intervals and notify the volunteer when updated information and new background check is required
Automatically notify volunteers when they are approved or denied, using custom email messages that you control
Automatically notify volunteer coordinators or school administrators if desired when volunteers are approved
Instant access to up-to-date and accurate volunteer information for school administrators and volunteer coordinators
Volunteers can log time, providing valuable information for administrators
Check-in/Check-out database can be used for volunteers to check in at the school office, capturing volunteer hours automatically
Capture volunteer interest areas, providing an easy way to send volunteer opportunities to volunteers based on their interests
Create and manage volunteer opportunities at each school. Volunteers can go online and sign up for these opportunities
Excellent reporting
Tell me more about the benefits of using Volunteer Tracker
Save Time / Money
Visibility -Reduces the number of phone calls between teachers, administrators, approvers. Reduces the need to keep individual spreadsheets and email them to others.
Manage one volunteer application per person. With a paper process, you are handling multiple applications per person.
Automatic notifications –When a volunteer is approved, everyone is automatically notified via email saving the time to notify both the volunteer and the volunteer coordinators and principals.
Interface with background companies – Save the time that you are spending keying in volunteer applications into your background company's system – the Volunteer Tracker will send the information for you.
Improved Compliance
Visibility of all volunteers means that your volunteer coordinators and principals will have accurate and up-to-date information on their volunteers at all times.
One application means consistency in your information.
Train your volunteers through the online training orientation modules, ensuring that all volunteers are getting consistent and complete information.
Less Liability / More Safety by ensuring that volunteers who need background checks are not slipping through the cracks.
Better Information
Log volunteer time and have instant access to reports on where your volunteers are spending their time, both by activity and by location.
Better use of volunteers. Your district spends a lot of money background checking volunteers. Make better use of them by having an easy way to notify volunteers of events in their interest areas.
Improved Communication
Automatic emails notify users of approvals.
Generate emails to your volunteers based on their interest levels – keeping people more involved in areas they are interested in.
Background check notifications and volunteer expiration notifications. Automatically notifying volunteers when background checks are expired.
Social / cultural enrichment. People who are informed of what is going on in a district and are involved are more understanding of how a school operates.
Events and Opportunity management. This allows volunteer coordinators to take advantage of volunteer skills and time and makes them more efficient in the process.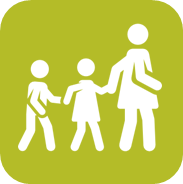 REQUEST A FREE DEMO
Request a no-obligation demo to see how Volunteer Tracker can benefit your school
Request Demo
Request a Demo Today
We are so excited that you are interested in joining other districts in maximizing the value of your volunteer program with Volunteer Tracker.
Please provide your information and an App-Garden representative will be in touch soon!