SUB TRAINING OPTIONS AND PRICING
PLEASE NOTE that if your district has explicitly asked you to purchase our online training, you must use the link that the district provided. Many districts choose to customize our courses for their specific needs, so you must purchase your training through their unique link.
Orientation
Substitute Orientation Training
Standard HR Policies (harassment, discrimination, drug and alcohol policy, use of technology, and more!

Classroom Attire

Professionalism

Confidentiality and FERPA

Identifying Child Abuse and Neglect

Basic Classroom Management

School Safety for Subs (safety drills, lockdowns and avoiding injuries)

Health Information: Diabetes, Asthma, Allergies, Seizures, Working with School Nurses, Bloodborne pathogens
EST
Effective Substitute Teacher Training
Teaching as a Profession

Understanding Learning Styles

Understanding Diversity

Work Habits

Attitudes for Success

What makes an Effective Substitute

Developmental Characteristics of Various Ages

Behavior Management Models

Advanced Classroom Management

Methods of Positive Reinforcement

Obtaining Student Respect

Elements of Teaching

How to Become the Requested Substitute

Substitute Tips
Get Both!
Combined Full Substitute Course
All Orientation topics

All Effective Sub Training topics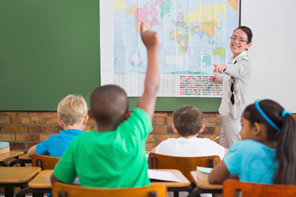 We have been extremely pleased, first of all with the customer service in building the program. What I mean by building the program is that there is a lot of personalization and customization that we were able to put into this program which kind of made it unique for Davie County.
– Jeff Wallace, Davie County Schools NC
When you talk about the App-Garden sub training, it has been a huge problem solver for us. We used to do face to face training. We don't want to take away the value of meeting our employees and working with them, but with the App-Garden sub training they can access it at anytime. They can access it at their own time and there is no time delay in getting them started. Setting it up and getting it customized for our district has been big for us. Working with folks at the App-Garden who understand the education environment was very important to us.
– Sylvia White, Newton-Conover Schools, NC
We have been using the App-Garden sub training since 2015. The App-Garden has really allowed us to streamline our processes and become much more efficient with our substitute applications. Therefore, allowing us to add more subs to the list throughout the year which is a real win for all of our campuses.
– Barbara Tate, Copperas Cove ISD, TX

ENJOY A SELF-GUIDED DEMO
Enjoy an instant demo of our interactive course experience.
When you complete a form below, you'll be given full access to a demo course.
Substitute Orientation Training
Effective Substitute Teacher Training
TEACHER TESTIMONIALS
Hear what our subs have to say about their experience with our trainings
I liked it better because I didn't have to travel somewhere to take it. It might have been offered at an inconvenient time for me.
Colleen Nordhoff – Substitute Teacher at Carrollton-Farmers Branch ISD in Texas
I liked that it was convenient, allowed me to do it on my time schedule, and the fact that I could contact a tech if needed.
Cathleen Philips – Substitute Teacher at Carrollton-Farmers Branch ISD in Texas
I have a busy schedule, and it was great to work at my pace in my own environment.
Sherri Cheeseboro – Substitute Teacher at Franklin County Schools, N.C.
I liked that I could go at my own pace. I also liked that I could repeat course material for review and retake assessments as soon as I got ready. Taking the course online made it very flexible. I really enjoyed it!
Candis Bailey – Substitute Teacher at Davie County Schools, N.C.
I felt this course more convenient because I don't have to rush to class and whenever I felt like reading the material I read at my own time and pace. Very productive, helpful , informative, convenient, and useful. I am glad that I took this course and it refreshed my memory.
Kulsum Danawala – Substitute Teacher at Carrollton-Farmers Branch ISD in Texas