Helping you manage work orders district-wide.
HOW IT WORKS

Submit Work Orders
A single online form takes just minutes to complete. Requests are automatically routed to the right people for approval

Administration review and approve work orders
Easily review and assign work orders to internal and external vendors.

Track Costs and Inventory
Easily track costs such as labor, parts, equipment, and inventory associated to work orders.

Monitor Progress
Check the status of current work orders from completion
Why use Facility Tracker – Work Order Management?
Work Orders & Assignments
Create, assign and track order. Easily assign work to your staff, departments and external vendors.
Robust Reporting Options
Our numerous detailed reporting options provide you the data you need to intentionally and effectively manage your facility.
Preventive Maintenance
Be intentional with the management of your facilities by creating preventive maintenance tasks with auto-reminders and assignments.
Asset and Inventory Management
Manage consumable inventory items and assign them to work orders with auto-deletion and restocking alerts.
Equipment Tracking
Track work order history, warranty information, item details and much more.
Cloud Based Technology
Easily access your database from anywhere. No onsite installation.
Amazing Support
If you ever have any issues or questions, we're here to help! Customer support is our number one priority. Feel free to contact our support team with any questions at any time.
Vendor Portal
With the Vendor Portal, you can assign work orders directly to your preferred vendors and have them be a part of the work flow.
TESTIMONIALS
Read what our customers have to say about how Facility Tracker has helped to increase efficiency in their facility management
"We changed over to Facility Tracker this school year to track our bus maintenance. This system is working great for our district. From the time a driver makes a request, to it being assigned to a mechanic, parts are taken out of inventory, and the driver is notified of the repair being completed. I really appreciate the customer service provided.
"
Billy Huish, Farmington Municipal Schools, NM
"
Facility Tracker is proving its value to us every day we use it, the ability to have all needed information in one place including job notes, any associated costs, and all types of attachments in different formats. Being able to break different jobs out into tasks for different crew members to work on is a very helpful feature for scheduling. The ability to have attached forms for different types of requests, space breakdowns to provide any level of detail you want, a full history at the click of a button, and the documentation of all conversations is very unique to Facility Tracker. All of this along with the incredible support team that you get with the App-Garden products make this a program that I feel lucky to have at my disposal. Thank You App-Garden & Facility Tracker.
"
Judy Hake – Maintenance Director Hamilton School District, MT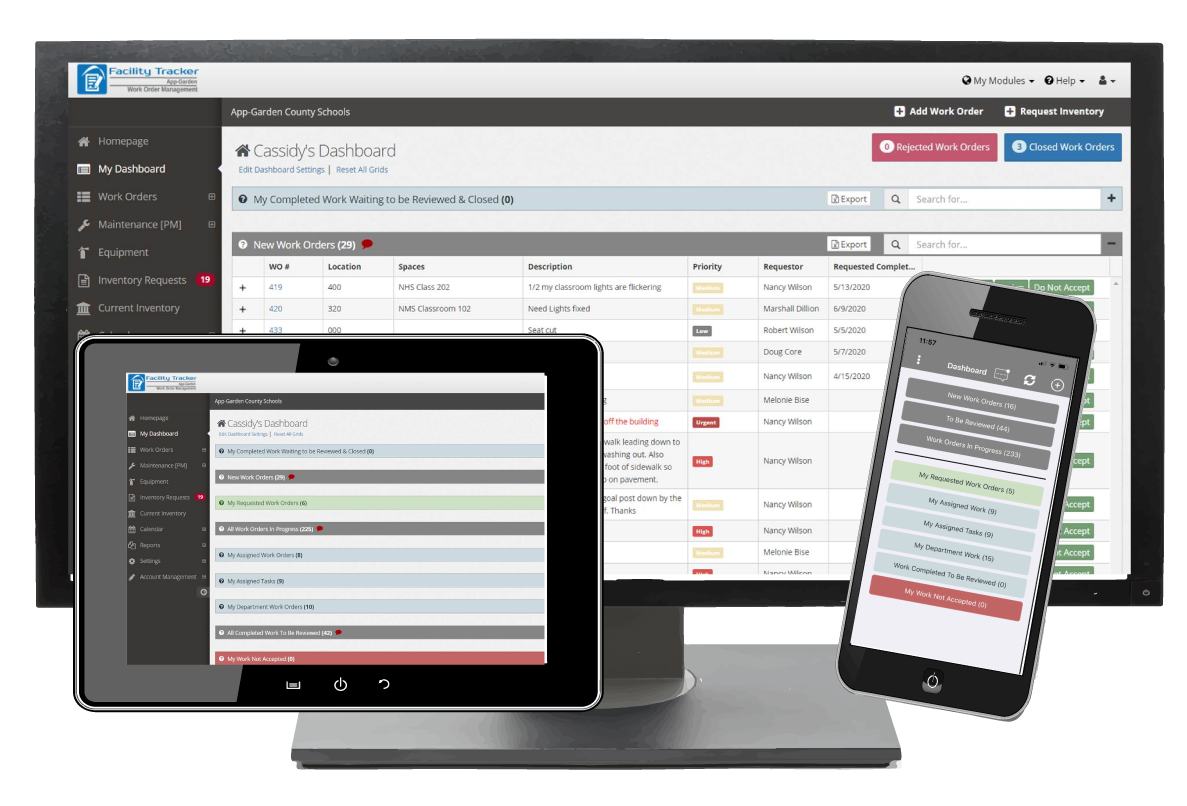 We Make it Easy to Connect With Teams
The Facility Tracker is accessible on desktop and mobile. Giving your teams access to the information they need on the go. Providing you with a tool for easy communication and tracking.
Get Started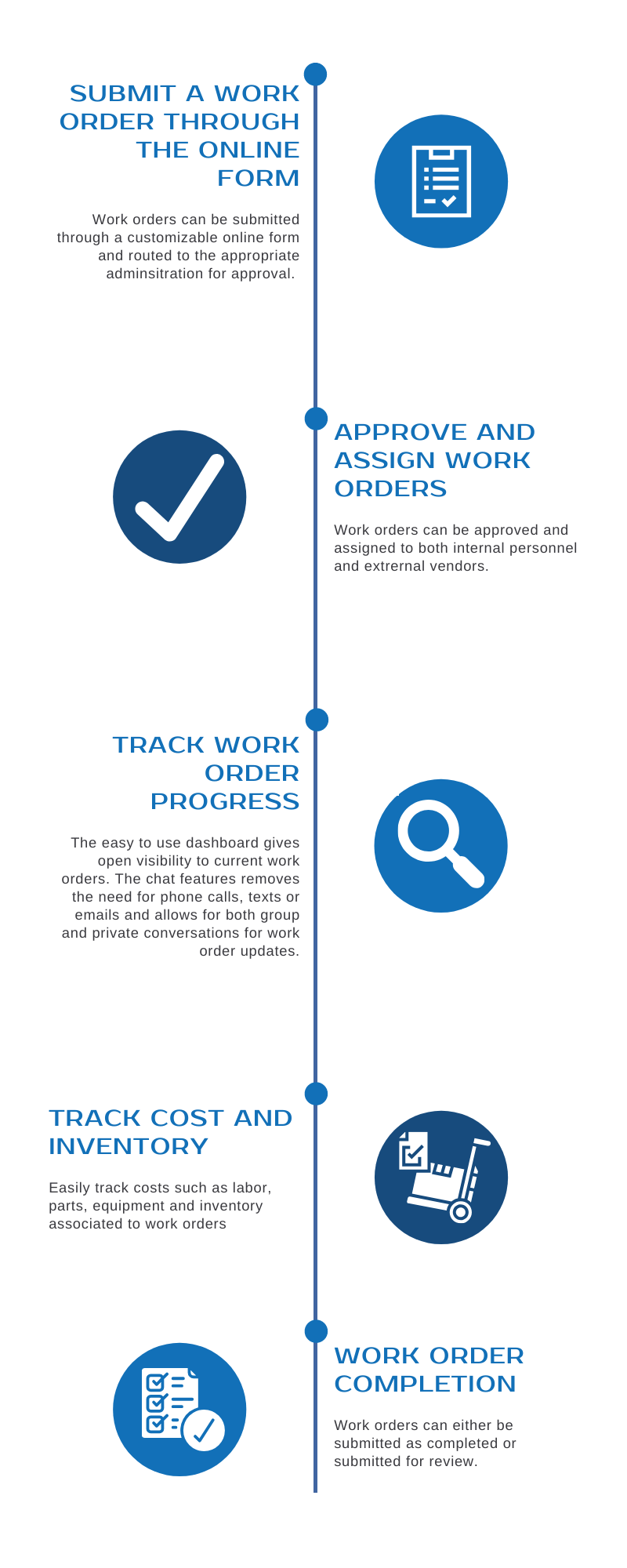 CASE STUDY
See how Rowan-Salisbury School District benefited from using Facility Tracker to manage their work order management process.
"It was clear that App-Garden was committed to our success and would do whatever it took to help us get the most out of Facility Tracker."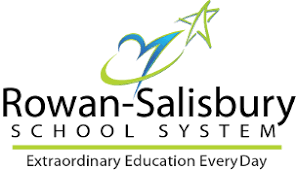 Looking for a better way to manage your work order management process? Brandon McCarty, Rowan-Salisbury's Facilities Project Coordinator, utilized The Facility Tracker application to streamline the work order management process and improve communication with his team.
Cloud-based technology allowed team members to submit, review and complete work orders from any Internet-enabled device
Automate inventory control, equipment
tracking, and warehouse work order processes.
Read why Rowan-Salisbury School District identified Facility Tracker as the solution for their work order management process.
MORE RESOURCES
Learn more about how the Facility Tracker can help you today!
Request Information
Request a Demo Today
We are so excited that you are interested in saving time and simplifying your routing process with Travel Tracker – Routing Software.
Please provide your information and an App-Garden representative will be in touch soon!