Bus driver shortages continue to be an issue for districts across the country. Prior to the COVID-19 pandemic, the number of available drivers was declining, often due to the lack of funding available for school transportation. During the pandemic, the operational issues surrounding driver shortages escalated due to drivers becoming ill or unwilling to risk exposure, while districts attempted to provide distanced seating and hybrid schedules.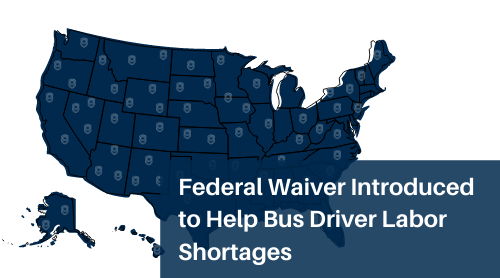 The US Department of Transportation (USDOT), in collaboration with the US Department of Education (USDOE), has undertaken several measures to support solutions for operational challenges with bus driver labor shortages nationwide:
Introduced the Federal Motor Carrier Safety Administration (FMSCA) waiver helps increase the bus driver labor pool (effective Jan. 3, 2022)

Provided guidance on how ARP/ESSER funding

can be used to help with recruitment and driver staff retention issues

Hosted the

National Safe School Reopening Summit

to hear from students, staff, and teachers to discuss and explore problems and solutions for COVID-era learning

The FMSCA waiver is the most recent announcement made by the USED, in coordination with the USDOT, to assist schools and districts. Transportation Secretary Pete Buttigieg stated, "This federal waiver will help states that are short on bus drivers by allowing states to focus on the testing requirements that are critical to safety..."



So, what other steps can schools and districts take to help address driver shortages? Implement a modern, ARP/ESSER-funding eligible transportation management software that assists with driver route assignments and bus route maintenance. In "Responding to Emergency Situations with a Modernized School Bus Routing System," the Travel Tracker team demonstrates how to combine routes in a single click.
Contact us to see firsthand how Travel Tracker-Routing is an easy, effective, and modern solution to manage your driver assignments and bus routes.